News
4 IKEA Standing Desk Alternatives That Look Better & Don't Wobble!
If you're thinking of investing in a new desk, you might be tempted to try and save yourself some money. Maybe even trying your hand at making your own standing desk. However, it's worth thinking carefully before you take the plunge. Could you be sacrificing stability and performance in your rush to save some cash? IKEA are the kings of budget office furniture, but can you apply this to standing desks?
Standing desks have very specific requirements and although cutting costs is tempting, it's no good if the desk you end up with isn't fit for purpose.
Is The Ikea Standing Desk Good?
When IKEA jumped into the market with not one but two new products, many home workers rubbed their hands together. After all, many had wanted to join the standing revolution, but with many standing desk options out of their price range, surely this was a chance to try a standing desk without the outlay?
Standing desks need to be engineered and designed expertly to ensure stability, and the technology involved isn't cheap. But the existing desks on the market were relatively expensive, and the IKEA desks promised to deliver at a lower price point. But are they actually any good? We've written about whether you should avoid a cheap standing desk more generally here if you want to learn what to look out for.
IKEA SKARSTA Standing Desk
IKEA's SKARSTA standing desk offers a manual alternative to the more common electric standing desks, with a crank handle used to lower and raise the desk. Other than this the desk is as basic as you can make a desk. One major drawback is the lack of a power bank, cable management, or storage. This can create problems: laptop users will find that the lack of power and cable management means their cables and potentially the heavy convertor on their lead is hanging from the table at full height.
The SKARSTA is simply a particleboard topped desktop on a simple crank-operated frame. The desktop itself is sturdy enough, and other than this everything is made of metal. A range of colours are available. In use, the crank system is labour intensive, with a lot of cranking required to reach full height. It will at least match your existing office furniture (if you shop at IKEA).
IKEA BEKANT Sit Stand Desk
With the Bekant IKEA branched out into the electric standing desk arena. The Bekant features a simplified lift system, with up and down functions. The desktop is again in melamine with a particleboard top. It is good looking, with a range of different colours and finishes available.
IKEA BEKANT Review
Unfortunately, it seems the drive to make the desk easy to build has compromised stability, with many users complaining about the attachments used to secure the desktop to the frame. The BEKANT does have integrated cable management, but no power bank.
The low powered motors have a relatively low weight capacity of around 70kg, and this creates wobble when the desk is raised with any significant weight loaded. Many users felt unsafe loading this much gear onto their table. Even worse, the motors in one or both legs are prone to failure, leading to the whole product line being recalled. The Bekant desk promised a lot, but with an underpowered desk frame leaving many users unable to raise and lower their desk, it hasn't delivered.
Manual Height Adjustable Standing Desks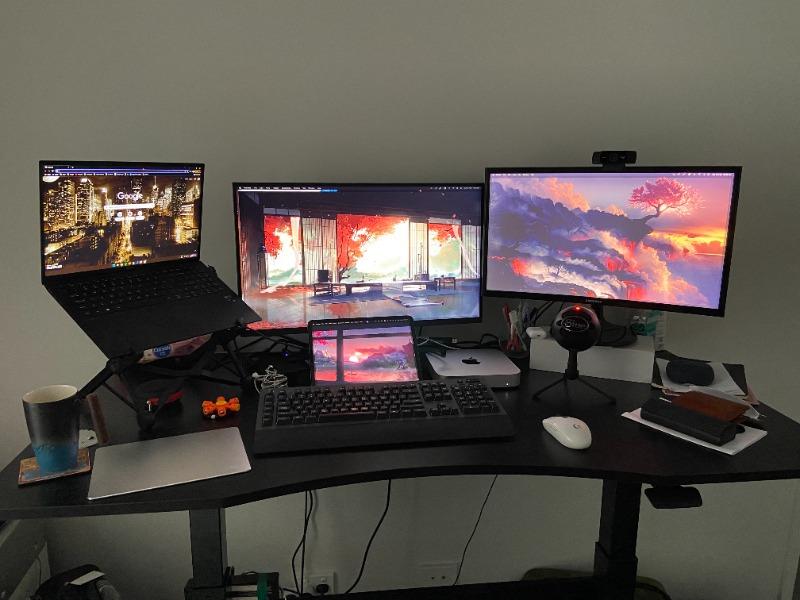 The Desky Air Lift Zero is a manually adjustable platform with a difference, using pneumatic power to control the desk's height. This saves endless cranking, which although not bad exercise, is certainly not ideal during a busy workday. With Air Lift, a simple push of a lever is enough to change the height of your desk.
Fitted with a reinforced crossbar to maintain stability, the heavy-duty particleboard desktop comes in at an impressive 145cm x 73cm. Despite this, the Air Lift Zero maintains total stability, mounted on a modified version of Desky's standard class-leading frame.
Although it has a slightly higher price tag than the SKARSTA, for the level of performance it is well worth it. Stability is absolutely key when investing in a standing desk, and the Air Lift guarantees this in use and in transition.
The recently added manual stand up desk options to our range are a fantastic option if you are new to sit stand working.
Best Cheap Electric Sit Stand Desk
The Desky Single Electric sit stand desk incorporates all the expertise used in the build of their other desks, but in a smaller, more affordable package. Compared to the BEKANT it offers reliability, and superior lifting power, for a very similar price. It also features integrated cable management, and a much more useful electronic lift system featuring 4 programmable memory presets. It is operated with a handheld controller.
The other major plus is the stability. With a total lack of shake in everyday use, the powerful motor is capable of shifting up to 8kg easily. With a transition speed of 38mm/s, and super-quiet operation, it's heads and shoulders above it's IKEA counterpart.
Why are standing desks so expensive?
Standing desks are expensive because the stability and lifting power required doesn't come cheap. Not only do standing desks require top quality materials, they need powerful, smooth motors which don't fail, and can keep your desk 100% stable when changing positions.
As illustrated by the problems with the BEKANT, cutting costs simply doesn't work. That said, the Desky Single Electric Sit Stand Desk works out as only a little more than the IKEA version, but provides much better stability, lift and usability.
Are sit/stand desks worth it?
Yes standing desks are worth it, with a host of health and productivity-related benefits. Using one can help ease or prevent back pain, and help you to maintain a healthy posture. Changing positions during the day has been linked with a host of health benefits from standing desks, and keeping active can help you fight obesity and related health problems, while improving blood flow, well being and productivity.
Standing Desks For Small Spaces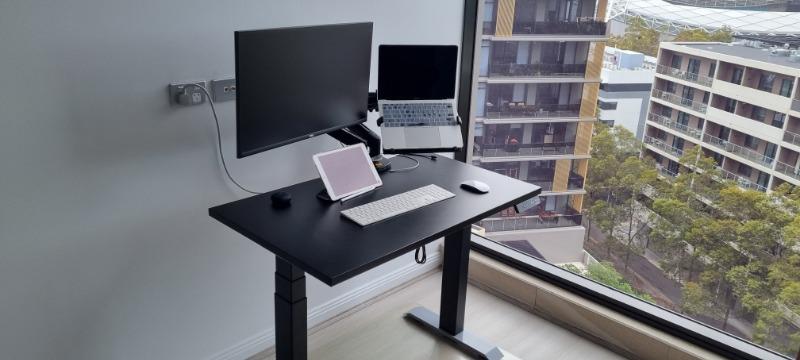 Another option, this
Desky Mini Dual Standing Desk
has the same lifting power as our larger dual models, but is much more compact and ideal for smaller spaces and those who only work from home on occasion.
Mounted on a super stable aluminium base, adjustable feet allow you to place it wherever you need it without compromising usability. A height range of 60 - 125cm should suit most people. Like all Desky products what really stands out is the stability, and the impressive speed and smoothness with which it transitions.
The only drawback is the reduced desktop size. Desky has been expanding our range of smaller desks so be sure to check out our collection of desks for small spaces.
How Do You Make A Home Office In A Small Space?
Pedestal desks are ideal for making a home office in a small space, and allow you to easily convert a space into an office for the day if you only work from home occasionally. With many of us now creating home offices with limited space, a pedestal is a great solution for those who want to bring stand up working into their home and experience the health benefits from standing desks.
Custom Standing Desk
The Desky Dual Melamine Height Adjustable Desk is the complete package, with a weight capacity , stability and usability that is unrivalled. With a super tough melamine desktop, available in a range of size and color options, this is as robust as any desk out there. The largest desktop this can support is 1800 x 750, so this needs some real power. Luckily, the two legs are each fitted with a powerful motor capable of raising the desk from 60-125cm at 36mm/s, without shake or wobble.
The solid frame construction ensures this is a market leader in terms of stability, in use or transition. The same hand controller system with 4 programmable settings is employed, so you can save your ideal settings for ease of use. Cable management and power options are available, so none of the cable issues present with both IKEA desks here.
The desky dual compares favourably to all of the standing desk options available. Although more expensive than both of the IKEA products, you can be 100% certain this will not fail, and it has a distinct advantage over the SKARSTA in that it has motors (no cranking). Compared to the BEKANT, this is clearly a much superior desk, beating it on stability, and crucially reliability.
Electric Height Adjustable Gaming PC Desk
The requirements for a sit stand gaming desk are slightly different, but increasingly gamers are coming online to the health benefits a standing desk can bring them. The Desky Alpha Dual Gaming Desk is designed to bring all of the power and stability of the other desks into a product which speaks to gamers. Larger, more powerful and more stable than both the IKEA desks, this has the advantage of being designed with gamers and their needs in mind.
The Ergo Edge design allows the user to get closer into the action, which allows for better wrist support, helping lower the chances of developing RSI like carpal tunnel syndrome. Everything else you would expect is present: two powerful motors fitted into the frame ensure your set up is safe when changing heights, and with a speed of 36mm/s you can move from bottom to top in around 10 secs.
If you're looking to upgrade, Desky has a range of alternatives to the IKEA duo, boasting superior stability, great shipping and customer service, but above all, reliability. If the above don't work for you, check out the full range and we're sure you'll find something that fits your needs.